Residential Property Disclosure Reports
Low Cost • Online • Pretty Darn Quick
Why pay more?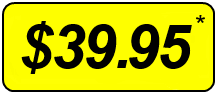 *Prices subject to change without notice.
Ordering is as simple as 1 - 2 - 3
What You Get ...
$39.95 Residential Property Disclosure Report -
Seismic Hazard Zone • Earthquake Fault Zone • Special Flood Hazard Area • Area of Potential Flooding (Dam) • Wildland Fire Risks and Hazards • Very High Fire Hazard Severity Zone • Airport Noise • Airport Influence Area • Formerly Used Defense Sites • Commercial and Industrial Zoning • Right to Farm • Mining Operations • Mold Advisory • Registered Sex Offender Database (Megan's Law) Advisory • Methamphetamine Contamination Advisory • Gas and Hazardous Liquid Transmission Pipelines Advisory
$29.95 California Tax Disclosure Report (Optional) -
Satisfies seller's obligation, pursuant to Civil Code Section 1102.6b, to disclose all special tax and/or assessment districts affecting the subject property. Report emailed under separate cover.
We've Got You Covered
Anywhere in the State of California!